There are two options to purchase eyeglass frames – in person at your local optical store, or through an online store.
Advantages of buying offline:
Professional help – An experienced optician has the knowledge to tell you if the frame you select is suitable for your prescription or if it fits your nose correctly.
Complicated prescriptions – If you have a high power, complicated prescription, it is difficult to use an online store. An experienced optician is required to help you acquire the right eyeglasses. Online stores limit the rx range they will process.
Support local – If you would like to support your local stores, make sure you're not getting ripped off by comparing the price of the same pair of glasses online.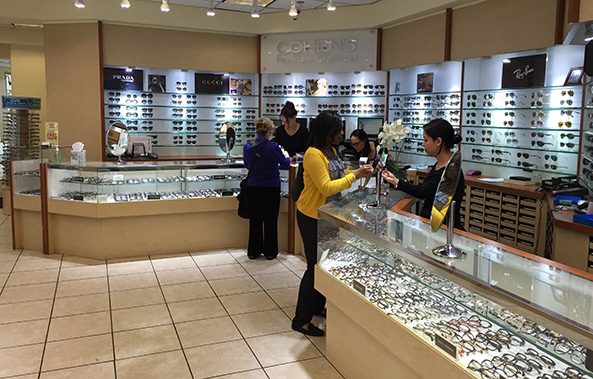 Advantages of buying online:
Lower cost – In many cases, you save up to 70% off retail prices. Online brands design and manufacture all of their frames before customizing them to your prescription at their in-house prescription labs. The removal of the middle-man equates to big savings on the total cost of the frames.
More selection – Online stores usually have a wider range of glasses. Lenses offered are same high quality as those available in retail outlets. The glasses are made by professional opticians at in-house state of the art laboratories.
Upload face – Some online stores allow you to upload your photo on their website to see what the glasses would look like on your face. All you have to do is line up your pupils and take the picture with your phone or webcam.
Convenience and speed – you don't have to waste effort and time driving to the store to pick up your eyeglasses. Order from the privacy of your home in your pajamas – your glasses will be delivered to your doorstep.