1. Wider Selection
Brick-and-mortar stores have limited floor space, and can only display so many frames. This explains why stores try to showcase as many high-priced designer glasses as possible; those frames make more money. Depending on the store's vendor relationships, it might offer only specific brands, further limiting its selection. When you pick from a selection someone else curated, you don't see other frames that might be more your style. But when you shop online, you can from a large range of styles, brands and frames. If you have a style in mind — say classic tortoise shell glasses — you might find two or three pairs in-store. Search for the same type of frames online, and you'll find a wider selection.
2. Clear Vision While Shopping
If you already wear glasses, trying on glasses in-store can be a bit tricky. You've got to take them off to try on frames, so… you can't really see what the new frames look like on your face! If you have got a strong prescription, it's nearly impossible to get a good look at the glasses on display, much less what they look like on you. To make matters worse, you'll often shop for glasses right after having your eye exam, and your eyes might be dilated — making your vision even blurrier and your eyes more sensitive to light. Not ideal for any kind of shopping. At home, you can wear your glasses while you shop for new glasses. When you want to get a good look at something, 20/20 vision sure works wonders.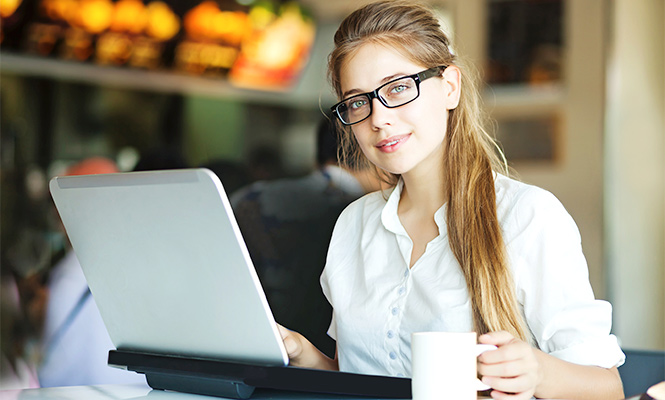 3. No Pressure
The in-store experience can create anxiety and pressure. Optometrists usually have small storefronts with just one or two salespeople on duty. All eyes are on you as you shop. And once you've taken the time to try on a bunch of frames, the pressure's on to make a purchase — even if you haven't found something you like. Plus, you don't want to be that annoying guy who tries on every single frame in the place. But why shouldn't you? These things are going on your face. You may wear them every single day for a long time. You want to be certain you've made the right decision. Shop online, and you can take as long as you need to find that perfect pair. Hours if you like — days even. Buy when you feel ready — not because other customers are waiting and the salespeople are getting impatient because you haven't made a decision.
4. Virtual Try-Ons
Worried about not being able to try on potential new frames? After all, you want to see what each pair will look like on you, not a model. There are lots of online stores that offer virtual try-ons. Just upload a photo of yourself and you can see how the frames fit your face and style. Trying to decide between a few different frames? Take a couple of screenshots and send them to friends or family who'll give you an honest opinion about what looks best.
5. Lower Prices
When you buy a pair of frames in the store, you're also paying for lens crafting and customizing. The total price can run anywhere between $200-$800. But in most cases, when you purchase online from an online shop, basic single vision lenses are included in the price you see! That alone can help you save up to 70% on the total cost of the glasses. Can't decide between a handful of frames that you like? Why not pick up a few pairs and mix things up a little? Instead of spending an arm and a leg for a pair of glasses from the store, spend even less on a few pairs.